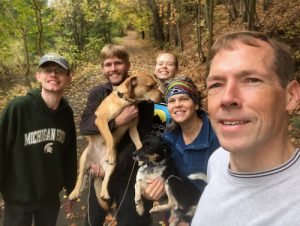 Pastor John Bell desires to welcome all peoples to be united in the praise of God in Christ through the ministry of Crossway. He is passionate for preaching and pastoral care that leads people to grow in their knowledge and experience of the goodness of God in Christ.
Pastor John has had the privilege to experience the adventures and learning of traveling many places in the world, including the times when their three kids were young and travel was even more adventurous! He has also experienced the joys and frustrations of running a small business, and he has been known to venture into the world of auto repair (sometimes the cars even run again!). He also loves the experience of being a private pilot. He deeply values diverse perspectives (whether because of different ethnicities, educational levels, life experiences, gifts and abilities, and so on) and how they enrich our understanding and experiences of life and God's work in the world.
After receiving his doctorate in computer science at the University of California, Berkley, Professor John completed a fruitful career in the College of Education at Michigan State University. One of his favorite directions of research included having students come to class by robot! While working at MSU, his interest in helping people see and experience the world through new ideas and new perspectives, especially with the ideas of the Bible, led him to complete a master of divinity (MDiv) in pastoral ministries from Grand Rapids Theological Seminary and a doctor of ministry (DMin) in preaching at Gordon-Conwell Theological Seminary in Boston. During this season, the seed was planted to start a multinational church in East Lansing. Pastor John pursued God's call (or perhaps more accurately, was pursued by God's call) and led the founding of Crossway Multinational Church in 2014. 
Now retired from his career at MSU, Pastor John values the opportunity and privilege to shepherd the people of Crossway full time and to practice his gifts locally and internationally. He focuses on preaching and forming Crossway into a church that is for, of, and by the peoples of many nations. He and his wife, Karen, live in Haslett, Michigan; they have three grown children, also living in Michigan. While they each have their own adventures, they still love to hike and ski and travel together when they can.