One of our traditions as a church is to have people share about their own traditions and experiences with Christmas while they light candles for Advent and read Scripture preparing us for our Christmas celebration. It is a wonderful time, and we want to be sure that people who are joining online can be a part of it as well.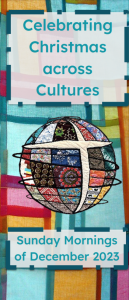 The big idea is to help us give attention, with head, heart, and hands, to the reality that the Son of God was given to us as the baby Jesus, and His name is called Wonderful Counselor, Mighty God, Everlasting Father, Prince of Peace.
During 2023, here are the passages we plan for each Sunday. Perhaps you would consider setting aside time to meditate on these passages as a way to listen to God.
| | | |
| --- | --- | --- |
| Sunday | Scripture Reading | Sermon Text |
| December 3 | Jeremiah 31:31-34 | Luke 1:5-25 |
| December 10 | Isaiah 40:1-11 | Luke 1:26-38 |
| December 17 | Isaiah 54:4-8 | Luke 1:39-56 |
| December 24 (morning) | Isaiah 52:7-10 | Luke 1:57-80 |
| December 24 (evening) | Isaiah 9:1-7 | Luke 2:1-20 |